Now that I have officially over 1600 things pinned on Pinterest I thought I should take a break and actually make something. Ha!
I have a pin board called flowers where I have pinned many different flower tutorials with great plans to make some of them. This particular one caught my eye and I just knew I had to make one or two. I made a quick trip to JoAnn's for some fabric to add to some that already had.
The first flower I made (the one on the hat above in the center) was made from some fabric I already had on hand
I thought the black, gray and yellow fabric that I found at JoAnn's would make pretty flowers.
You could put them on a hat or a purse. Purse is shown below.
This is the inspiration flower I pinned came from Cluck, Cluck, Sew. Go to her blog (click on the red chicken below) for a really great tutorial on exactly how this is made.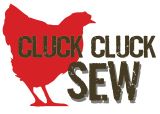 So what have you been making lately from Pinterest? I would love to see what everyone else is doing.
I am linking up with the Strut Your Stuff Linky Party. Click on icon to go browse what others have submitted.