Pinterest went and did it to me again. I mean seriously, how can I ever keep up with all the adorable and fantastic ideas?
Here is a set of blocks inspired by something I saw on Pinterest.
My version:
Inspiration from Pinterest:
Here are some cute snowmen that my daughter Natasha made from some she had found on pinterest.
Here are the inspiration snowmen.
What did we do before blogs and pinterest?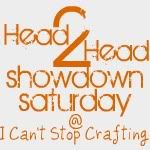 I am also participating over at
Creations by Kara.